NZFFA February 2023 Newsletter
{name} - Welcome to Your Newsletter
Opinion Piece
Peter Trolove, President NZFFA
Laws Without Enforcement Are Meaningless
Last Thursday I attended a small meeting comprised of anglers and others concerned about the unhappy state of the Rakaia River's recreational fisheries.
Most were invited members of a "Rakaia Group" who have regular meetings with Ecan; Bill Southward, a tireless Rakaia Huts identity, North Canterbury F&G, and NZ Salmon Anglers.
The purpose of the meeting was to hear a presentation chaired by Tim Davie, Ecan's Director of Science regarding the development of a new Water Budget Model for the Rakaia River. An Ecan hydrologist gave the majority of the presentation with a senior consents manager contributing at the end.
The water budget model, of which we were given a brief overview, is Ecan's counter to a leaked "draft" report, the result of a 2 year detailed catchment wide investigation into the actual water inflows and abstraction from the Rakaia River. The senior hydrologist's work has been accepted by an external hydrologist NZFFA contacted as being of a high standard. The fault of the report was recording issues relating to possible non-compliance by consent holders, the lack of monitoring by Ecan, and the lack of real-time data. (The author of the report resigned in order to retain his professional integrity rather than make the changes requested by his managers).
One of my roles as a vet is to be an information broker so I have had some experience reviewing a range of information sources with an open though cynical mind.
While the power point slides were professionally formatted with clear colour graphics, I was struck by the amount of estimates and assertions in the material presented.
Actual or estimate, the graphs showed how Central Plains Irrigation has been the most significant abstraction since 2018. (The large Barrhill Chertsey Irrigation scheme, included in the same 2012 LCP Hearing, was not discussed).
The hydrologist spoke of the complexities involved in building a water budget for the Rakaia River flows, and advised losses to groundwater between the NIWA measuring site in the Rakaia gorges and the river mouth are estimated to be an average of 19 m3/sec +/- 17 m3/sec.
It would be more accurate to state that the groundwater losses are estimated to be in the range of 20 to 40 m3/sec, the figure used at the 2012 Lake Coleridge Project Hearing.
The accuracy of hydrological measurement at a transect was confirmed as +/- 8%.
[Does this mean that the error of measuring individual braids should be summed?
Glova & Duncan (1985) stated it was not possible to measure a multi-braided transect with any confidence of confidence.]
It appears the purpose of the water budget model is to give Ecan an overarching understanding of how the multiple irrigation abstractions they have consented aligns with the residual river flows.
I found the presentation of the consents manager equally challenging.
Apparently Ecan is not adequately resourced to monitor and enforce the consents they issue, although "the Rakaia catchment has been given priority".
The consents team are concerned that recent standards in the Ministry for the Environment's NPS FM and Mana Whenua will mean consents coming up for renewal will no longer be compliant.
The issue for anglers as I see it, is that the Rakaia NWCO 1988, (amended 2013), attempts to protect the river's values through a statutory flow regime.
We know the Rakaia River is in trouble and has experienced massive change since the 2013 WCO amendment.
We must have confidence that Ecan is accurately recording all consented abstraction from the Rakaia River and connected groundwater, and that consent holders are complying with the conditions of their consents.
We need greater transparency to know this is the case.
We do not need another bloody model!
Below are extracts from an editorial in the New Zealand Deerstalkers' Associations magazine "New Zealand Wildlife" Autumn 1973 issue. John B Henderson then NZDA's national president was the author.
The previous year, the National government had been trounced at the polls by Labour led by Norman Kirk. Elections have common characteristics with issues like housing, health and cost of living paramount but the 1972 election was very much focused on the environment and outdoors with issues like the raising of Fiordland National Park's Lake Manapouri to supply foreign interests with cheap power for a smelter, trout farming and rich foreigners seeking bolt holes and to exploit fishing and hunting values.
John Henderson's comments seem to us, to be pertinent to next year's election.
Three (four or five) Waters for example, isn't that environmental? And issues like public ownership relevant? The relinquishing of the people's Urewera National Park? The plundering by corporates under the QMS of the public's sea fisheries? The top-dressing of public lands with eco-toxins? Nitrate poisoning of rivers and people's drinking water by government – aided corporate dairying expansion? Phobic pest policies? Futile firearm laws aimed at disarming the law abiding public. And the list goes on – just like it did at the 1972 election.
If there were any doubts in the past that the great public debates involving the environment, conservation and outdoor recreation were political issues, then the hard lessons driven home by the 1972 general election should have dispelled them for all but the myopic.
An entrenched government – National – paid the price for the many forms of environmental destruction that they were either directly responsible for or which they had allowed to happen and for their neglect, were unceremoniously bundled out of office. To be sure the cost of living was a major election controversy, as was housing, social welfare ——political TV, radio and press commentators failed at the election and subsequently failed to recognise and understand the real concepts that are at stake for our society, then it just goes to show how poorly we are served by news media controlled either by big business, big politics or big bureaucracy.
That one party took notice and the other didn't is now political history and a measure of the way in which Governments can overlook the public interest.
Did the previous government –think they fooled us with their attempts to discredit persons and organisations —secret negotiations with respect to public land, the sale of first class land to foreign absentee owners —did they catch one single vote in that long, immensely costly and stupid trout farming debacle —could they not understand the frustrations of thousands — over commercial and foreign interests that are trying to make a business ir rich man's playground out of outdoor heritage and deny access to New Zealanders?
The fact remains however that the conservation lobby especially the large group of outdoor recreational interests, has adopted a political stance—And that us as out should be in an age of pressure groups, big business and overseas control – when our environment from any angle one views it, is under threat of plunder and when our traditional and free and easy New Zealand way of life is under siege.
To those naive souls who continue to bleat that conservation and the outdoors don't mix with politics, I say that is precisely what those who pull the big strings want you to believe.
You will continue to believe and thus do so at your peril.
When a democratically elected government is given by its people, full control of the financial and administrative, legal and economic machine, then it must not be allowed to opt out of its responsibility ——If the system fails, it is because government has failed.
Politics and the environment are nothing more and nothing less than cause and effect.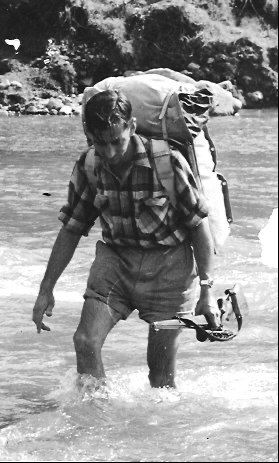 John Henderson in 1950s, heading into the Tararua Ranges
All gut glitters in the sun, and in order to divest it of this it requires to be stained. (W. C. Stewart, The Practical Angler,1857)
Playing OUR PART
Lowering Carbon Footprints with Peter Storey
I was initially disappointed with the FIRST EMISSIONS REDUCTION PLAN.
I had hoped for something which imposed legal measures to curb the environmental destruction caused by short term-focussed economic growth, over the past thirty years in particular.
Then I thought again.
What ERP actually represents is NZ's first official recognition that global lifestyle is driving climate change.
It then hands local responsibilty for this back to each of us as that's where the solution lies, demand driving supply.
The strategy shows ALL New Zealanders a sustainable way to live before presumably – or else ERP is spin – being legally forced to.
From partly necessity-driven personal experience, however, the primary principle, 'Playing our part', is not that hard a pill to swallow .
To produce this magazine I need a computer, software, electricity and an internet connection.
It might help sway a few more customers but the operation doesn't need a separate office.
Removing that nonessential effectively halved my local carbon footprint.
The operational resource is trout fishing.
There isn't much of that in Auckland and to produce articles I had to travel – creating another carbon footprint on top of my local.
Combine home and business with resource and that footprint's shrunk again.
Dramatically.
Soon after Todd went to school I began looking at how I fish the lake.
Power boats are fun but they cost a lot to run and like cars, produce yet another carbon footprint.
Bottom line, motor boats do not catch trout.
Nor do canoes, but they put you on the water in seconds, reach trout without cost, noise, vibration, petrol fumes, carbon monoxide and without eroding the shoreline; better still, they help keep you fit.
Since the ERP came out I've been thinking about my tackle's carbon footprint.
What struck me was that, inside my lifetime, flyfishing has progressed from a sport based around natural materials to one now largely synthetics-based, as it's become increasingly more expensive to buy natural materials while the quality of mass-produced synthetics has improved and remained affordable.
Like so much in our modern lives, however, many synthetic fishing materials are a result of the exploitation of oil and that means they are finite.
Neither party seems keen so far, agriculturally and transport-wise, to push NZ's commitment to the Paris Agreement to halve emissions by 2030 but recreation represents a much easier target and fishing-wise, the logical start point is that part of our tackle with the highest negative environmental impact, synthetic running line.
Once banned, even if anglers were allowed to use up what stock remains, nylon and copolymer will be useless within a couple of years and fluorocarbon wouldn't last much longer.
Can bio-plastics be extruded into tippet? Yes; but that technology is still clearly developmental and its rate of biodegradability, questionable.
Not much scope there for a while at least, then.

Off-the-spool 6x fluoro (top) and 100 silk thread in sunlight
The same piece of fluoro in sunlight, after Scotchbrite
Soon after the lake closed I thought, why not use this time to explore natural tippet possibilities.
While losing a few centimetres of nylon or fluoro in a stream or lake cannot compare to letting way-past-human-safety-level chemicals and pathogens seep into it, nor extracting most of its flow for profit regardless of environmental outcomes, could I use some natural material for terminal tackle? 'Back to the Future' with gut, perhaps? Well, as you can see Stewart's biggest gripe with that is clearly the same as mine and many others' with synthetics.
All I've found online isn't new either.
What about silk sewing thread then? Readily available, a neutral-looking spool was on its way minutes later.
100 'Zen' silk thread proved finer than 6x.
Its matte finish was passive in sunlight, above and under water, and its limpness clearly posed considerable scope in fighting drag.
It stretched too, but a steady pull followed by a sharp one showed that it was NOWHERE near as strong as 6x fluorocarbon (4lb test – which I still cannot break by hand after scraping the extruded surface with Scotchbrite).
I'd put 100 somewhere in the 1-2lb test range; stunted rainbow upper Waihou and Waimakariri territory at best, around here.
Given the sunlight result, the limpness and stretch, however, an acceptable diameter to strength ratio was clearly worth investigating further.
So courtesy 50 and 30 spools followed and 30 was clearly in the game.
It looked thick in a solid colour yet threaded through a #16 eye and felt no heavier than similar synthetic diameter.
So I put a couple of metres onto a polyleader, made a couple of presentations and immediately bought in stock Silver (a bluish pale grey when wet) and put Natural (it looks a creamy grey online but is still weeks away) on order.
Meantime I'm testing the Silver on the lake shore in daylight; the hardest possible local environment.
Wind or not this material demands deliberate casting, so there's another plus to my mind.
The tippet was obvious, however, so after three blanks I dyed it with tea and that immediately transferred attention to the polyleader.
(Stewart caught his fish on "dull colour" gut tippets dyed "a bluish green".
) After four blanks (Tarawera!) I finally hooked a fish that took confidently but gently, and while it was already plain that this material knots extremely well, the actual thread failed when I stopped the fish, trying to clear yet another low temperature snarl in the polyurethane intermediate.
The average-looking fish surfaced once in that typical break-off manner, heading out into the lake, and that was it.
(I was fishing barbless, of course.
) Anglers caught trout with horse hair before gut, silk is considered the strongest natural fibre and I've lost countless fish this way on synthetics.
So the next step is to check each tippet for flaws, just as Stewart did with gut – he only considered 15 of each $55 hank of 100 usable! If that fails the silk will tie flies and it's back to synthetic and Scotchbrite for now.
Until then 30 silk thread fools stillwater trout, in clear water and daylight, and I'm keen to play my Carbon Zero part tippet-wise! New season; new project. CAN'T WAIT!

30 Silver in sunlight and right, dyed with tea.


Want Free Advertising for 3 Months?
(we already have takers)

As part of a trial, NZFFA Members, Supporters and allied Suppliers can advertise for free in both the newsletter and on our website for a period of 3 months.
After which time, you can simply discontinue or choose to carry on with a paid subscription.
Charges will vary according to size and position etc.
For details or to send your original artwork, contact advertising@nzffa.com
Trout Flies
The Rabbit Lure - a life-like trout tempter
by "Sparse Grey Hackle"
The Rabbit is a deadly fly. The fur gives that all important life like movement that trout can't resist. It's available in many colours, the Black Rabbit being an excellent night fly for large browns. The Orange and Yellow rabbits are good to use on rainbows as they migrate the rivers, while the Green Rabbit can be good for resident fish. The paler colours are good for smelting fish or white bait according to Future Rivers.
Noted angler Allan Burgess says once the rabbit pelt strip becomes wet it has a very fish-like sinuous action as it is worked through the water. You have to see this to appreciate just how much it does look like a little fish when retrieved up through the current of a stream or river!
Large sea-run brown trout averaging 4 – 6 pounds are a feature of the New Zealand trout fishing scene in spring and summer. Some of these sea-runs are very big indeed with double figure fish entering the mouths of the big east coast rivers such as the Hurunui, Rakaia, Waimakariri, Rangitata and Waitaki, to name just a few.
Beating the Lethal Danger of the Sun
by Tony Orman
This article was originally published in "Fishing and Outdoors". Google and go to TWR "Fishing and Outdoors" for a free digital subscription
Skin cancers, like melanoma, have reached epidemic proportions and understandably outdoor types like anglers are the most vulnerable.
Here's a few melanoma facts to erase any care-free thoughts you may have. In New Zealand, every year, 6,000 people are diagnosed with melanoma and around 70% of melanoma cases occur in people aged 50 years and older.
Now here's the really bad news - over 350 Kiwis die of melanoma every year - another source says 503 - and skin cancers kill more people than all other types of cancers combined. Now here's the good news - most skin cancers can be prevented by taking care in going outdoors.
When I was a kid - far too long ago - there was no awareness of being 'sun smart' . Indeed there were no sunscreen lotions. As kids, we used to sun bathe on the hottest days hoping to get a tanned body like Hollywood film stars such as Tarzan!
Plus being a mad keen fisherman, there were the many days fishing on or near the water - river for sea - with the sun blazing down and the reflection upwards of the sun from the water's surface - a double whammy!
I wore peaked baseball style hats rather than brimmed hats seeing them as much more fashionable but in reality sheer vanity and stupidity. Baseball style hats do nothing to protecting the vulnerable ears and temples - nor that upward reflection off the water. You can get peaked caps with a back flaps that covers sides and importantly ears too. A brimmed hat is a must.
So are fingerless gloves that protect the tops of hands. For a change being sensible - well part way anyhow - I now wear light fabric long sleeved shirts and have virtually shunned short sleeve shirts. Wear light weight longs and have the tops of your feet covered with sneakers or suitable slip-ons.
Best of all rug up to the maximum. You can buy neck gaiters (buffs) which protect the neck, throat, ears and lips. The latter is important to avoid those ghastly cold sores caused by sun or wind exposure.
It's virtually a suit of light-weight armour. It might not be fashionable but who gives a damn?
Nevertheless I've still got that sun damaged skin from earlier foolishness and vanity. Consequently I periodically have to touch up sun spot areas with a prescription cream Efudix and my doctor regularly attends to patching me up with dry ice. Friends have had really serious skin cancer problem areas surgically removed.
There are myths around protection from sun. Sun screen won't last all day. You put it on when you wake up but it only lasts a few hours - not all day. So after a couple of hours, slap it on again.
Don't be misled because it's cloudy. According to research the majority of the sun's rays can come through cloud cover. Darker skinned people are okay? Apparently statistics are melanoma with darker skinned people, is far more deep seated.
One alibi of anglers shunning sun screen is that the scent of it will deter fish. True or not, it's not worth the risk. The remedy if it's true, is after applying sun screen, wash your hands.
Then there's another aspect that anglers just don't seem to appreciate. I see cars towing boats festooned with fishing rods heading for the local marina about 9 am on a cloudless, sunny day with all the hallmarks of a sweltering belter.
Fish generally don't like hot, sunny hours. In fact trout hate it as the water temperature ramps up. So if you're chasing trout get out at 6 am or 7 am and knock off at perhaps 10 am. It's almost unchallengeable that the best time for fishing is the "change of light", i.e. dawn and dusk. This is particularly so with species like snapper, cod and tarakihi - in fact I'd confidently wager, almost every fish species
I take this a step further by doing much more of my fishing during the first hour or two of night. As the water temperature drops, the trout will feed. In any-case much of a trout's tucker is nocturnal, such as caddis moths, shrimps, kouras, - and even mice.
Similarly with snapper under the security if darkness, snapper come into shallow water - naturally on a rising tide. Check the tide times so to find optimum times of an incoming tide coinciding with dawn our dusk. My two biggest snapper both 8 kgs were caught on a bright moonlight night.
I've found kahawai, subject to tide, to invariably feed best in that twilight hour or at first light.
If I fish during the day, I absolutely shun those bright, sunny days, but a cloudy day may be acceptable - such is the urge to go fishing.
If I'm erring on the side of fishing during the day, I often think of Barry.
Barry was an American visiting New Zealand and I agreed to take him after trout. It was a sunny day and the fishing was hard but eventually he enticed a lovely 2 kg brown to a dry fly. He was top company and looked fit and tanned.
He returned to the US and nine months later I received word he had died of a melanoma on his leg.
Pick the time to dodge the sun — A twilight time kahawai on the fly rod
Survey Shows Women Like Husbands to Go Fishing for Different Reasons
By "March Brown"
There's enough cobbly-wobbly advice given to wives of trout fishermen but a survey has now shown why wives don't need any advice.
We trout fishers knew that all along. There's a perception that non-fishing wives regard trout fishing with much inner amusement thus adding a factor to why wives of fishermen tend to giggle to themselves a lot. But some others are inwardly impatient about it to the point of contempt.
But a new survey has given a deeper insight into the matter. The NZ Association Jaundiced Anglers Wives (JAW) has found only one wife of 987 surveyed disputed her husband's right to fish and only one thought her husband fished too much.
Chief Head Shrink Ebenezer Piscatorus said the survey's findings were startling in many respects.
One woman banned her husband from fishing. Before that, they fished together, she always catching more. Then one day he caught more than she did. She fumed. Then soon after, he caught a monster trout bigger than anything she had ever caught. She spat the dummy, cut his pocket money so he couldn't buy any gear, forbade him using the car at all in case he sneaked off fishing and sent in a letter of his resignation to the local anglers club.
Perhaps it was in his genes or stars but obviously he wanted to be henpecked and bullied. The club's better off without the poor, snivelling soul.
Yet all is not totally lost with the little pitiful persecuted pillock, for in a spark of resistance he sneaked off eeling with the local kids using their gear. In return he umpired their soccer games. He was 75 and had run out of self respect and dignity.
But to the survey. It found 95 % of wives actually encouraged their husbands to go trout fishing. Psychological analysis of interviews showed the two starkly contrasting reasons were:-
1. The wife likes her husband and thinks fishing is good for him and that it would add years to his life.
2. The wife doesn't like her husband and is glad to be rid of him as much as possible.
Further analysis of the second category showed two motivations:-
(a) The wife encouraged her dear husband to spend whole days on the river, even a weekend away. The more time fishing, the less she had to put up with him at home.
(b) The advanced stage of this was the wife sent husband fishing in the hope that he would get pulled in by a big trout and would drown, would get tossed by an angry jersey bull and stomped on, would get lost and perish in a blackberry thicket or would meet an amorous milk maid (like Izaak Walton the patron saint of angling did in the 17th century) and run away with her.
Further analysis showed only 1% openly thought trout fishing was for idiots. As one said "There's a fine line between going trout fishing and just standing with a pole and a bit of string tied to it." But of the remaining 99%, over 50% thought while thinking trout fishing definitely is for idiots, they would never admit it, as their husbands were better encouraged to be dabbling and dunking themselves in rivers than wandering the town streets or being a politician on the local council or worse still being a drone MP in the Beehive.
Thirty percent were indifferent, didn't understand fishing or what their husbands did except they knew their men were away all day and always carried along some kind of long tomato stake, some string and something that looked like a whirly-gig. The men always returned, mostly fishless, hot and sweaty and wanting a cool beer and comforting, unfortunately too tired to mow the lawns.
Some wives were hard to classify. Eighty per cent felt their husbands were clumsy and bum fishermen but seemed happy for them to be trying. "Keeps him occupied out of harm's way," admitted one wife.
Only 5% felt their men were so hopeless they should give up trout fishing. Of the wives who fished too, 99.5% considered their selves far better trout fishers than their bumbling husbands. Only 0.5% reckoned their hubbies could out fish them.
Further analysis showed 80% felt their husbands were braggarts about their trout fishing, told grossly exaggerated stories about their days' trout fishing, both in size of fish and number and suffered from the syndrome of "the big one got away," and thus ought to quit fishing and be psychoanalysed by a head shrink.
This is all very confusing in many ways so I think I'll go fishing and contemplate the findings - that is if the wife will let me.
Members Advertisement:
RUAKITURI CABIN

Want an idyllic fishing getaway location?
THE CABIN: The cabin is fully self-contained and has electric power.
2 bunks and a single bed. (all bed linen; blankets, sheets, towels etc supplied).
Fridge with small freezer compartment, Microwave, Electric jug, Toaster, Small Electric Stove with 2 hot plates and oven. All cooking and eating utensils.
There is an outside open fire and outdoor cooking equipment, for those who like this style of cooking. Most women like to try this.
There is a separate wash-room, an outdoor solar shower bay and an outside toilet (keys kept in cabin).
There is also a large outside sink bench with cold water on tap to wash dishes etc.
PS, new flush toilet now installed
Full brochure at https://nzffa.com/downloads/advertisements/RUAKITURI_CABIN_INQUIRY.pdf
Postings From the Website
Some of our more recent posts from the website (see https://nzffa.com)
The Federation's Executive:
President: Peter Trolove (Rakaia)
Treasurer: David Haynes (Nelson)
Secretary: David Haynes (Nelson)
Committee:
Steve Gerard (Central South Island), Andi Cockroft (Wellington), Larry Burke (NZ Salmon Anglers), Brett Bensemann (Otago), Casey Cravens (Otago), Colin Taylor (Nelson), Grant Henderson (Auckland), Rex Gibson (Canterbury), Peter Storey - Advisory (Rotorua), Margaret Adams, Jason Foord (Auckland), Dr Charles Baycroft


Life Members, Tony Orman, (Marlborough), Sandy Bull (Gisborne), Ian Rodger (Auckland) and Ken Sims (Manawatu) are automaticaly on the committee
Co-opted: Alan Rennie (North Canterbury)
Disclaimer

The opinion pieces and submitted articles are provided for your interest and information. They do not necessarily represent the views of all of the Executive members but are seen as vital to promote active debate around the issues that fit the aims and objectives of the Federation.

If you have not already done so feel free to comment on any of the articles on our website. The discussions always open up many valid points.
Please feel free to circulate this newsletter around club members and friends.